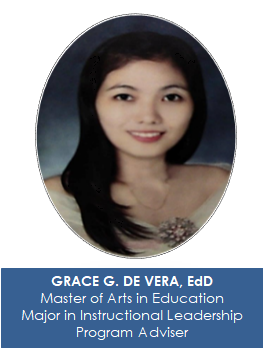 WELCOME TO THE PSU – OPEN UNIVERSITY SYSTEMS MASTER OF ARTS IN EDUCATION MAJOR IN INSTRUCTIONAL LEADERSHIP PROGRAM.
        In all forms, education must continue. Welcome to the Master of Arts in Education program. It is indeed a great privilege to be a part of continuous education. Learners explore the importance, roles and functions of education and leadership as they exist in education system, beneficial to the stakeholders. We commit the overall leadership and professional development programs that will provide the graduate students critical and analytical thinking skills. Conduct of research studies and responsive extension services are designed to attain national development goals and prepare graduate students to be globally competent. The genuine sacrifices and dedication of the faculty members contribute to the achievement of the Pangasinan State University – Open University Systems (PSU-OUS) goals and objectives. Continue showing deep level of understanding and commitment to your profession. Keep moving forward and never doubt your potential!
Excellent School Principals make excellent schools. The Principal as an academic leader makes the difference.  He or she moves the school from mediocrity to excellent academic performance. Because of this, societies have always looked up to the Principal as a responsible leader. With much expectations, the Principal does not only manage the beauty and safety of the school facilities, but promote the conductive learning atmosphere that makes the teachers and pupils/students excel and realize their full potentials.
The average performance of the schools in the Philippines therefore require among others, the empowerment of the Principals. To empower the Principals, it would equally require efforts in strengthening their capabilities as academic leaders in the schools. Based on their specific needs, the MAEd Instructional Leadership Program is designed to develop their basic leadership competencies in instruction.
So that the Principals may not be disturbed in their official duties and responsibilities, the MAEd IL Program uses alternative instructional delivery systems. This learning systems is a combination of individual self-directed learning mode, small group sessions, face-to-face with the Professor and the undertaking of Practicum. As a self-internalized learning system, the Principal's attendance to the regular Graduate School is reduced to around fifty percent (50%).
1. Advanced knowledge and skills in a specialized, interdisciplinary, or multidisciplinary field of study for professional practice
2. Self-directed research
3. Lifelong learning with a highly substantial degree of independence that involves individual work or teams of interdisciplinary or multidisciplinary experts; and
4. Application of the above-mentioned skills in research, professional or creative work
Intensity Level of Acquired Learning:
I – Introduced
P – Practiced
D – Demonstrated
1. Demonstrate abilities and competencies acquired from their programs that are reflective of transparency, equity, participatory decision-making and accountability;
2. Engage in relevant, comprehensive and sustainable initiatives based on multiple perspectives that build professional credibility and integrity;
3. Respond to challenging goals and tasks with determination and sense of urgency;
4. Produce quality outputs leading to inclusive growth and continuous improvement;
5. Engage life-long learning for a more dynamic advancement of professional skills and competencies;
6. Meet industry requirements of the local and international human capital market;
7. Manifest social and environmental responsiveness to elevate the welfare of the multi-sectoral communities; and
8. Practice spiritual values and morally upright behavior to promote dignified public image.
                                                                                                             PANGASINAN STATE UNIVERSITY
                                                                                                               OPEN UNIVERSITY SYSTEMS
                                                                                                                      Lingayen, Pangasinan 
MASTER OF ARTS IN EDUCATION
Major in INSTRUCTIONAL LEADERSHIP
1. FOUNDATION COURSES (15 units)
| | | |
| --- | --- | --- |
| Course No. | Course Title | Units |
| EDF 201 | Philosophical-Psychological Foundations of Education | 3 |
| EDF 202 | Sociological-Anthropological Foundations of Education | 3 |
| EDF 203 | Methods of Research | 3 |
| EDF 204 | Statistics in Education | 3 |
| EDF 205 | Educational Management | 3 |
2. SPECIALIZATION COURSES (15 units)
| | | |
| --- | --- | --- |
| Course No. | Course Title | Units |
| IL 211 | Communications for School Managers | 3 |
| IL 212 | Teaching-Learning Environment | 3 |
| IL 213 | Transformational Leadership | 3 |
| IL 214 | Instructional Supervision | 3 |
| IL 215 | Staff Development | 3 |
| IL 216 | School-Based Evaluation | 3 |
ELECTIVE COURSES (3 units)
| | | |
| --- | --- | --- |
| Course No. | Course Title | Units |
| IL 217 | Innovation/Change in the Classroom | 3 |
| IL 218 | Practicum in Institutional Leadership | 3 |
4. COMPUTER COURSES (6 units)
| | | |
| --- | --- | --- |
| Course No. | Course Title | Units |
| Comp 1 | Word Processing, Spreadsheet and Using Multimedia and Internet | 3 |
| Comp 2 | Statistical Analysis Using Computers | 3 |
THESIS WRITING (6 units)
| | | |
| --- | --- | --- |
| Course No. | Course Title | Units |
| IL 299 | Thesis Writing | 6 |
Summary:         
Foundation courses          15 units
Specialization Courses      15 units
Elective Courses                  3 units
Computer Courses             6 units
Thesis Writing                      6 units
Total Units     45 units
For further inquiries, you may check our FAQs Page: CLICK HERE