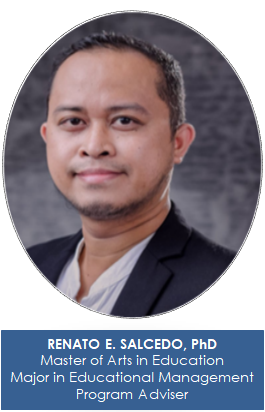 WELCOME TO THE PSU – OPEN UNIVERSITY SYSTEMS MASTER OF ARTS IN EDUCATION MAJOR IN EDUCATIONAL MANAGEMENT PROGRAM
The COVID-19 pandemic highlighted the essence of continuous delivery of quality instruction through open distance e-learning (ODEL). The world is fast becoming an arena of borderless learning with emphasis on virtual collaboration among faculty, students, researchers, and other stakeholders. It is with these realities that Pangasinan State University Open University Systems seek to provide opportunities for learners to be engaged in an enabling virtual learning environment. With a pool of experts that are very much prepared to empower Master of Arts of Education Major in Educational Management through productive engagements through carefully crafted learning exercises, we can affirm that you are in good hands with PSU OUS. With that in mind, rest assured that the MAED EM program will aim to develop you to become reflective educators who possess the competencies of 21st century education.
       The Philippines is now recognized as the fastest growing educational arena in the Asia-Pacific rim. It is an emerging tiger economy and aspires to be par with the rest of the countries by the turn of the 21st century. To sustain and even accelerate this status, the national strategy is to pole vault educational development to meet the challenges of internationalization and globalization. The need is to redirect and reorient the various human resources of the government to the future requirements of growth through creativity, innovativeness, entrepreneurship and self-initiative for more integrative government delivery systems, supported with the latest state of the art information technology.
Advanced knowledge and skills in a specialized, interdisciplinary, or multidisciplinary field of study for professional practice
Self-directed research
Lifelong learning with a highly substantial degree of independence that involves individual work or teams of interdisciplinary or multidisciplinary experts; and
Application of the above-mentioned skills in research, professional or creative work
Intensity Level of Acquired Learning:
I – Introduced
P -Practiced
D– Demonstrated
1. Demonstrate abilities and competencies acquired from their programs that are reflective of transparency, equity, participatory decision-making and accountability;
2. Engage in relevant, comprehensive and sustainable initiatives based on multiple perspectives that build professional credibility and integrity;
3. Respond to challenging goals and tasks with determination and sense of urgency;
4. Produce quality outputs leading to inclusive growth and continuous improvement;
5. Engage life-long learning for a more dynamic advancement of professional skills and competencies;
6. Meet industry requirements of the local and international human capital market;
7. Manifest social and environmental responsiveness to elevate the welfare of the multi-sectoral communities; and
8. Practice spiritual values and morally upright behavior to promote dignified public image.
PANGASINAN STATE UNIVERSITY
OPEN UNIVERSITY SYSTEMS
Lingayen, Pangasinan
MASTER OF ARTS IN EDUCATION major in EDUCATIONAL MANAGEMENT
FOUNDATION COURSES ( 9 units)
| | | |
| --- | --- | --- |
| COURSE NO. | COURSE TITLE | UNITS |
| EDF 201 | Methods of Research | 3 |
| EDF 202 | Statistics in Education | 3 |
| EDM 210 | Legal Bases of Education & Policy Analysis | 3 |
SPECIALIZATION COURSES (15 UNITS)
| | | |
| --- | --- | --- |
| COURSE NO. | COURSE TITLE | UNITS |
| EDM 211 | Institutional Fiscal Management | 3 |
| EDM 212 | Program/Project Planning & Evaluation | 3 |
| EDM 213 | Personnel Management | 3 |
| EDM 214 | Dynamics of Rural Development | 3 |
| EDM 215 | Curriculum Development | 3 |
ELECTIVE COURSES (3 UNITS)
| | | |
| --- | --- | --- |
| COURSE NO. | COURSE TITLE | UNITS |
| EDM 216 | Computer Applications in Management | 3 |
| EDM 217 | Seminar in Manpower Development | 3 |
COMPUTER COURSES (3 UNITS)
| | | |
| --- | --- | --- |
| COURSE NO. | COURSE TITLE | UNITS |
| Comp 1 | Statistical Packages | 3 |
THESIS WRITING (6 UNITS)
| | | |
| --- | --- | --- |
| COURSE NO. | COURSE TITLE | UNITS |
| EDM 299 | Thesis Writing | 6 |
| | |   |
Summary:           Foundation Courses           9 units
                             Specialization Courses       15 units
                             Elective Courses                  6units
                             Computer Courses               3
                             Thesis Writing                     6 units
                             T O T A L                           36 UNITS
For further inquiries, you may check our FAQs Page: CLICK HERE