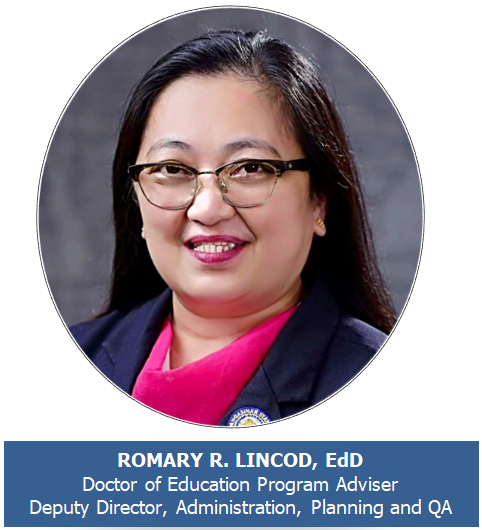 Welcome to the PSU – Open University Systems Doctor of Education Program.
The Doctor of Education Major in Educational Management program has gone a long way
since its humble commencements in 1997.
The program is open to all interested professionals both within and outside the jurisdiction of the country.
Doctoral education in Open University will be an exhilarating and gratifying intellectual journey for you. Our program has a legacy of a profound commitment to education. Your intellectual life will revolve around your program's curriculum and the faculty and students in your course. Furthermore, the relationship that you develop with your mentor will be of vital importance to your optimistic pursuit of a graduate degree.
Through the Open University Systems (OUS), you will be able to study without having to quit your job, and to leave your family. The PSU-OUS has a strong faculty dedicated to graduate education, research and creative works.
We are proud to say that we produce high caliber graduates (teachers and other professionals) to become administrators, heads, principals, or even as Superintendent who can adhere to universal changes. In addition we adhere to focus on gender equality and our educational procedures for sustainable development, we want to dive into policies and a well-built curriculum to fulfill the requirements of the academe and the industry.
Finally, you have chosen to join a tremendous and vivacious graduate program at PSU-OUS.
We thank you for virtually visiting our website (link) and feel free to reach out with any questions you may have.
We wish you the best of luck in your graduate studies.
             The doctoral  program shall further prepare and develop educational managers, superintendents, administrators, principals, supervisors , professors and educational researchers for higher and more complex responsibilities in institutional and program management and research. The contents shall emphasize advance and current theory, concepts, principles and practices in the different specialization, as applied to current realities in the social, political and economic environment.
          Pursuance of the highest level of leadership roles that transformation of educational institutions to provide quality education, is one of the major concerns of graduate education, particularly the Doctor of Education. It is a program that allows the continuous inflow of new knowledge and information which enhances the growth and development of man, his profession, the institutions and the society as a whole.
1. Understand, develop and sustain arguments about, and critically evaluate the established theories, principles, and concepts at the forefront of a specialized field of study.
 2. Extend the forefront knowledge by conducting original research or other forms of advanced scholarship of a level of quality that meets the standards of peer review and eventually merit publication.
 3. Interpret and critically assess new contributions to knowledge by other individuals, and communicate such interpretations and assessment to both specialist and non-specialist audiences.
 4. Conceptualize, design, and implement research projects for the generation of new knowledge and/or of new educational programs and systems, and adjust the project design in consideration of external exigencies.
 5. Make every informed judgment on complex issues in their field of specialization and its application even in the absence of complete data, in ways that are informed by the ethical and social dimensions of field, and be able to communicate their ideas to both
Intensity Level of Acquired Learning:
I – Introduced
P – Practiced
D – Demonstrated
1. Demonstrate abilities and competencies acquired from their programs that are reflective of transparency, equity, participatory decision-making and accountability;
 2. Engage in relevant, comprehensive and sustainable initiatives based on multiple perspectives that build professional credibility and integrity;
 3. Respond to challenging goals and tasks with determination and sense of urgency;
 4. Produce quality outputs leading to inclusive growth and continuous improvement;
5. Engage life-long learning for a more dynamic advancement of professional skills and competencies;
 6. Meet industry requirements of the local and international human capital market;
 7. Manifest social and environmental responsiveness to elevate the welfare of the multi-sectoral communities; and
8. Practice spiritual values and morally upright behavior to promote dignified public image.
PANGASINAN STATE UNIVERSITY
OPEN UNIVERSITY SYSTEMS
Lingayen, Pangasinan
DOCTOR OF EDUCATION major in EDUCATIONAL MANAGEMENT
FOUNDATION COURSES ( 18 units)
| | | |
| --- | --- | --- |
| COURSE NO. | COURSE TITLE | UNITS |
| EDF 301 | Seminar in Advanced Philosophy of Education | 3 |
| EDF 302 | Educational Planning and Management | 3 |
| EDF 303 | Perspective of Education 1 | 3 |
| EDF 304 | Perspective of Education 2 | 3 |
| EDF 305 | Quantitative Methods of Research | 3 |
| EDF 306 | Qualitative Methods of Research | 3 |
SPECIALIZATION COURSES (21 UNITS)
| | | |
| --- | --- | --- |
| COURSE NO. | COURSE TITLE | UNITS |
| EDM 311 | Management of Educational Institutions | 3 |
| EDM 312 | Financing Educational Systems | 3 |
| EDM 313 | Human Resource Development in Education | 3 |
| EDM 314 | Dynamics and Ecology of Educational Management | 3 |
| EDM 315 | Educational Innovations and Technology | 3 |
| EDM 316 | Management Communications System | 3 |
| EDM 317 | Comparative Educational Management Systems | 3 |
ELECTIVE COURSES/COGNATE COURSES (9 UNITS)
| | | |
| --- | --- | --- |
| COURSE NO. | COURSE TITLE | UNITS |
| EDM 331 | Crisis Management on Indigenous Decision | 3 |
| EDM 332 | Educational Evaluation Patterns | 3 |
| EDM 333 | Policy Process and Analysis | 3 |
| EDM 334 | Management Information Systems | 3 |
COMPUTER COURSES ( 3 UNITS)
| | | |
| --- | --- | --- |
| COURSE NO. | COURSE TITLE | UNITS |
|   | Advance Comp 1 Statistical Packages | 3 |
|   |   |   |
DISSERTATION WRITING (12 UNITS)
| | | |
| --- | --- | --- |
| COURSE NO. | COURSE TITLE | UNITS |
| EDM 399 | Dissertation Writing | 12 |
Summary:           Foundation Courses              18 units
                             Specialization Courses          21 units
                             Elective/Cognate Courses         9 units
                             Computer Courses                   3 units
                             Dissertation Writing                12 units
                             T O T A L                                63 UNITS
For further inquiries, you may check our FAQs Page: CLICK HERE